Porta-Glide Dolly Sleds
(for use with heavier professional dollies)
Solving the problem of flat spots on dolly wheels
"We've had no problems with bumps, even with the dolly sitting still and then rolling immediately. Overall, the construction is good, and they're not too heavy. I would give these wheels a Triple-A rating, for sure."
Dolly Grip Michael Landsburg - American Cinematographer Magazine

Read the A.S.C. review

HERE
"The smoothest dollying I have ever experienced. Even a 275mm lens sees no camera vibration"
Walt Andrus, Camera Operator
"I have been in this business for quite some time now. I have been renting sled systems to my clients for years, and have personally had my hands on and tested countless variations of the dolly sled. After using the Porta-Glides for the first time I just have to say, WOW!! Absolutely beautiful... design and functionality are the best I have ever seen. Well Done!!"
Matt Jaker, Vice President / Grip & Electric Manager - Hand Held Films

NEW! Custom engraving. Add your name or company name. Now available for an additional $15 per sled.
All dolly sleds using skateboard-style wheels develop flat spots on the wheels very quickly. This requires the dolly grip to roll the dolly back and forth repeatedly to reshape the wheels until the bump from the flat spot is no longer detected.
Our new Porta-Glide sleds have solved this problem because each of the 16 wheels has a different diameter. They are positioned on the wheel block so that all wheels are touching simultaneously, and, like the other systems, these wheels will flatten slightly. However, as they turn, instead of 16 flat spots hitting in unison, each of our wheels returns to its flat spot at a different time, making the spot undetectable.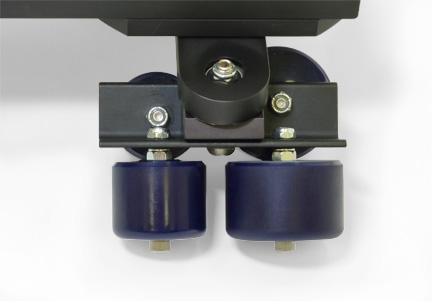 Note different wheel sizes.
Porta-Glide - includes 2 sleds $1995
Each side's wheel assembly can be detached as a complete unit by removing 4 screws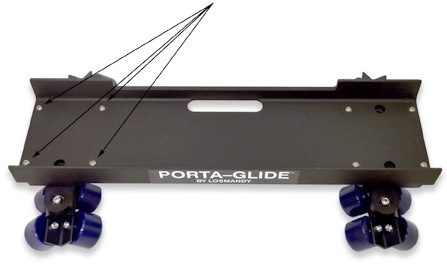 | | | | |
| --- | --- | --- | --- |
| | | This 4- hole pattern is the same as that used on the speed rail plates made by Modern Studio Equipment, a piece of equipment many dolly grips already own. These plates accept two pieces of speed rail. Putting our wheel assemblies onto these plates and adding a couple pieces of speed rail is an easy way to make a wider sled for those times when one wants to mount the dolly perpendicular to the track. | |
Another purpose is that sometimes one may want to to mount the wheel assemblies on some other sort of platform not conducive to the U-Channel shape of the sled, so having them easily detach like this can be helpful.
Access holes for locking the floating arms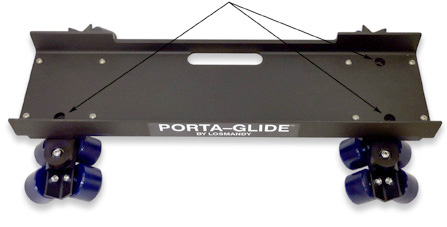 The Porta-Glide sled has one locked arm and 3 floating arms. If desired, the floating arms can be locked by simply adding a 3/8-16 x 0.75" screw through access holes shown here. We do not think this is often necessary, but some grips requested this feature, so we added it. Obviously, you cannot lock the arms if using curved track, and we prefer having the arms floating, even on straight track because it ensures that the wheel clusters will always seat properly on the track rails, even if the track were to be slightly scissored.
If all the arms are locked, the wheels will line up with the 24.5" spacing of standard dolly track. Therefore some grips prefer this so that the sleds drop directly onto the track without one needing to reach under the sled to set the wheel clusters onto the rails. However, we recommend leaving them unlocked so that optimal alignment of each wheel cluster is obtained.
Note: the 3 floating arms must be unlocked to fit into the Porta-Glide Case.
View of the underneath side of the Porta-Glide.

This assembly can be detached and bolted to other platforms or to a speed rail plate.






Each sled has 16 wheels, 8 per side.