Reach 57" (145cm) - Boom 72" (183cm) Wt. 60 lbs. (27kg)
This is the most versatile of all small jibs because of its ability to interface with a variety of professional fluid heads and tripods and carry up to 100 lbs. of front end camera/fluid head weight. It future-proofs your investment since it can accommodate small cameras with 100mm fluid heads, as well as heavily accessorized cameras requiring 150mm or Mitchell based fluid heads.
It assembles in less than 5 minutes. No tools required. All parts are machined aluminum and stainless steel. Boom lock, pan lock, Vector Balancing Bar, and Fine Tuning Weight are included. However, the Porta-Jib Custom Case, Front Inserts, Bases, and Counterweights are not included. See accessory pricing below.
| | | |
| --- | --- | --- |
| ACCESSORIES: | | |
| Custom Case for Porta-Jib | | $895 |
| 100mm front insert | Wt. 1.5 lb (.7kg) | $125 |
| Mitchell front insert | Wt. 1 lb (.45kg) | $125 |
| 150mm front insert | Wt. 1.8 lb (.8kg) | $250 |
| 150mm base | Wt. 2 lb (.9kg) | $175 |
| Mitchell base | Wt. 2 lb (.9kg) | $175 |
| Light Weight Tripod Base | Wt. 2.5 lbs (1.1kg) | $175 |
| DV Column Base | Wt. 2 lb (.9kg) | $175 |
| 36" Extension Kit | Wt. 9 lb (4.1kg) | $500 |
| Low Profile 3-way Leveler | | $395 |
| LWT Lightweight Adjustable Tripod | Wt. 14 lbs. (6.4kg) | $550 |
| | | |
Notes about Bases:
1)
We purposely do not make a 100mm base for the jib because most 100mm tripods are not strong enough to carry this much weight. Our Traveller Jib is designed to work with 100mm tripods.
2)
When using our 3-Way Leveler, no additional base is needed to interface with our LW Tripod. When using our 3-Way Leveler and a Mitchell or 150mm tripod, you will also need a Mitchell or 150mm Base.
Losmandy 3 Leg Spider Dolly with
extended legs and floor wheels
Wt. 32 lb (14.5kg)
$1195
Case with Wheels for LWT Tripod
Wt. 12 lb (5.4kg)
$335
Custom Case for 3 Leg Spider Dolly with extended legs and floor wheels
$335
Porta-Jib Counterweights
Suggested package.
(for more info click here)
Wt. 50 lbs. (23kg)

$150
For a comparison chart that shows size, reach, pull back and weight dimensions of our Standard Porta-Jib Jib, our Standard Jib with 36" Extension, and our Porta-Jib Traveller Jib, click here.
---
Videos
Why you should upgrade to an underslung head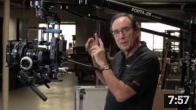 Balancing the Cartoni Smart Head on the Standard Porta-Jib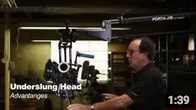 Advantages of using an Underslung Head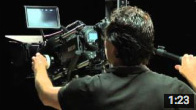 The Cartoni Spin Head,
Smart Head and the Losmandy Balanced Monitor Bracket
---
MONITOR SUPPORT BRACKET - For Front Operation

Balanced Monitor Bracket - for front-operated jib work $395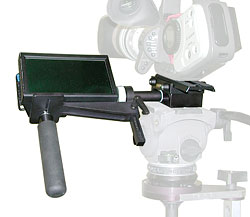 Now 8 inch (or smaller) monitors can be used as an easy-to-view on-camera display for jib work. As you boom the camera up and down, this new bracket's handle allows you to have your left hand controlling the angle of the monitor at all times, and because it is balanced, whenever you let go of the handle, the monitor will remain in that angle. So, for example, as the camera is boomed upward, above your head, you can flip the monitor, as you let go with your left hand, into a downward angle that will be easy to see, confident that the monitor will retain its desired angle for viewing.

The bracket assembly mounts between your camera's base and the fluid head's balance plate, and comes with its own balance plate assembly to mount to your camera. This bracket allows you to move the monitor fore and aft, as well as up and down to obtain nodal point balance. It then has a drag adjustment that allows it to move smoothly to keep it from being completely free-wheeling.
---
Click here for installation instruction for Balanced Monitor Bracket
on front operated Jib (PDF)
Requires Acrobat Reader- Get it HERE.

---
MONITOR SUPPORT BRACKETS - For Rear Operation

Arm for Large LCD and Field CRT Monitors $85
(Yoke or monitor tray not included)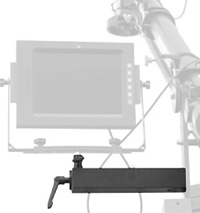 Articulating Arm for Small LCD Monitors $200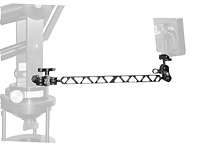 Click here for explanation of Monitor Bracket for rear operated Jib(PDF)
Requires Acrobat Reader- Get it HERE.

---
LIGHTWEIGHT TRIPOD
$550
Our new LWT provides sturdy, portable and economical support for either the Standard Porta-Jib or the Traveller. Rubber feet protect delicate floors and interface with the Losmandy 3-Leg Spider Dolly.
Requires one of the Tops or the LWT Adapter Plate, below.

Adjusts from 29" (74cm) to 46" (117cm) Legs fold to 33" (84cm) for easy transportation.
Wt. 14 lbs. (6.4kg) (Tops are extra)


Click for
larger image
LWT Adapter Plate
For Porta-Jib Standard or Traveller
$175
LWT TOPS:
100mm top Wt. 3.5 lbs. (1.6kg)
$200
Mitchell top Wt. 5.5 lbs. (2.5kg)
$300
150mm top Wt. 6 lbs. (2.7kg)
$375
LWT 12" Riser
$195



CASE with WHEELS for PORTA-JIB $895


Aluminum & fiberglass
- 11"x16"x45" Wt. 40lb
- (28x41x115cm, 18kg)
- 105lb (47.7kg) loaded
Custom cut-outs for components keep everything organized.
Holds everything except counterweights.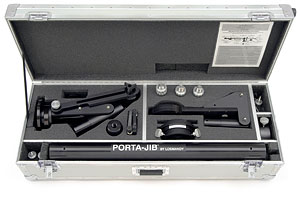 Click for Larger Image
Case also holds the 36" extension kit.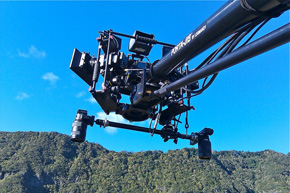 How's this for camera rig! Pictured here is Glenn Allen's five camera rig mounted on our Standard Porta-Jib for a total immersion video to be projected in the new Geary-designed tourist center in Panama.
Click for a larger image
---
Check out the Standard Porta-Jib in action!
Behind the scenes footage starts at 0.40 seconds in.
---
---
---
NEW!
LOW PROFILE 3-WAY LEVELER $395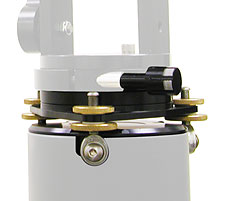 Attaches to the base of either the Standard Porta-JIb or Traveller and drops into the top of the tripod. Allows you to level the jib without moving the tripod legs. This is especially useful for those who want to have the Standard Jib on our rolling 3-Leg Spider. As one rolls from point A to point B, the floor invariably changes in level. So rather than trying to move the legs, which is difficult with a fully loaded jib, especially with the foot of the tripod locked into place on the dolly, you can now simply make the leveling adjustment at the base of the jib. Its low profile allows it to remain attached to the SPJ and still fit into the SPJ's custom case.



3-WAY LEVELER on DV COLUMN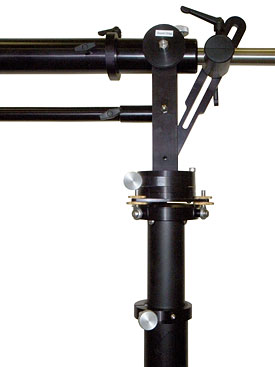 ---



17" MINI KIT $550


Converts the Standard Porta-Jib into a much smaller unit for working indoors where space for the full sized jib is unavailable.
Kit includes: 17" front main tube, 17" front secondary arm, and 17" rear steel weight bar. Provides approximately 3' of vertical lift.


36" EXTENSION KIT $500


- Increases Reach to 92" (234cm)
- Increases Boom to 131" (333cm)
- Adds 9 lbs (4.1kg)
- Note: Recommended weight capacity:
45 lbs. (20kg.)
- Extra counter weights will be needed.
It takes 30 lbs. to balance the extended front, and the camera/fluid head needs 2.5X weight to balance.

Additional Counter Weight - $3.00/lb.
Our weights are engraved with the Porta-Jib name, and are powder-coated to prevent them from rusting. Any barbell weights with a standard 35mm hole will work, but rusting will usually occur. Our weight shaft has a 1" (25mm) diameter.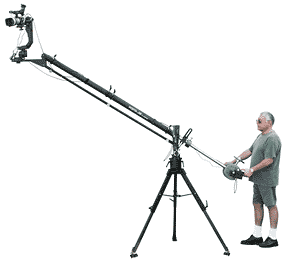 Click for Larger Image
Standard Porta-Jib shown with optional LWT tripod, 36" Extension Kit, VariZoom MC100 and
Transvideo 10.4" High Brightness Monitor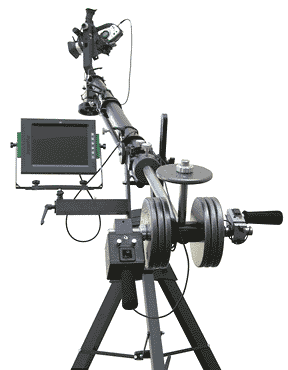 Click for Larger Image
Case with Wheels for LW Tripod $335