The Standard Porta-Jib was the industry's original light-weight front operated jib arm when it debuted back in 1989. In those days, when there were no light weight cameras, it had to be strong enough to carry a 100 lb. payload, which by today's standards makes it a heavy-weight jib. Consequently, as cameras became smaller and lighter, we brought out lighter-weight jibs like our Traveller and Explorer models, each time thinking it may be the end of the road for the Standard Jib. However, to our great surprise (and satisfaction), each year the Standard Jib continues to out-sell our lighter weight models. Why is this? Well, it is due to many things that differentiate the Standard from other jibs, including our own lighter weight models.
1) Although customers may be using lighter weight cameras now, they like knowing they have a jib that can handle larger cameras in the future.
2) A jib with more mass creates smoother moves. The lighter the jib, the more springy the movement, especially as one approaches the weight limit of the jib. Most users never get close to the 100 lb. capacity of the Standard Jib.
3) Unlike other front operated jibs, which are usually limited to a 100mm front cup, the Standard Jib can have either a Mitchell, 150mm, or 100mm front receptacle. This is ideal for rental houses that need to have as many options as possible for their customers.
4) The Standard Jib has the perfect size and strength to accommodate the increasingly popular Cartoni underslung heads-the Smart Head and the Spin Head. Once a camera operator uses a good underslung head, he quickly realizes that this is the ideal way to work a front operated jib. Being able to stay beneath arm gives one a completely unobstructed range of motion from ground level to as high as one can reach. A perfectly balanced underslung head on a perfectly balanced Standard jib is an unbeatable combination.
5) Unlike many jibs, the Standard has a lock for the boom that can handle up to a 20 lb. imbalance. This makes working much easier because one can simply lock the arm to change lenses or batteries without needing a second person to hold onto the jib as the weight changes are happening in the front.
6) Since the Standard Jib is primarily front-operated, it means the camera generally is not going to go much higher than what the camera operator can control (about 8 feet). However, unlike our other jibs, the Standard JIb can become much larger by adding a 3 foot extension, which creates a far greater reach and lift. Add another manufacturer's remote head system or use the extended version without a remote head to obtain higher angles or greater reach when needed.
7) The Standard Jib needs little maintenance. There are rental houses in the Los Angeles area that have jibs still in active rental service that were manufactured over 20 years ago.
Click here to find out more.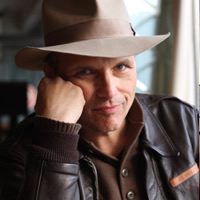 Jonathan Lawrence has owned a Standard Porta-Jib for years. Last year he added the Cartoni Smart Head and the Balanced Monitor Bracket to his kit. Jonathan is so enthusiastic about his Porta-Jib that he chose it to be the subject of his first on-line video review. You can see his review on his user page on our website, or on
his YouTube page
where you can subscribe to keep updated when he posts more reviews.
Read what Jonathan has to say about his experience with Porta-Jib products by visiting his user page on our website by clicking here.
Our user pages contain testimonials and photos from actual users. If you would like to be featured on your own user page on our website, please email your comments, photos and videos to mark@porta-jib.com.